de | fr | en print view

Annual report 2016
The 3R Research Foundation in 2016
In 2016 the Foundation provided a total of Fr. 469,640.10 for 11 research projects that had been approved previously. The Administrative Board received the final reports for two completed projects. No new applications were approved owing to the fact that the Foundation now has funding only for ongoing projects. The last 3R Info Bulletin, no. 54, included the results of project 119-10, now completed. The Confederation and Interpharma together provided funding for the last time in the total amount of Fr. 615,000. Since in the future, all the funding provided by the Confederation and Interpharma is to be paid to the 3R Competence Centre, the Administrative Board was obliged to take the decision to forego calling for outline projects to be submitted in 2016 for financial reasons.
Consequently the Foundation's activities were limited mainly to transferring funds to ongoing projects.
3R-Principles
The 3Rs are Replace, Reduce and Refine animal experimentation. The 3Rs must be the guiding principles behind animal experimentation; if a study can be carried out without using any laboratory animals then such a procedure must be used. If it is essential to use laboratory animals under the terms of animal protection legislation the number used must be kept to a strict minimum. The third "R" requires that animals used for laboratory experiments be made to suffer an absolute minimum of pain and/or stress. The 3R Research Foundation funds research projects whose aim is to improve present-day experimental methods from the point of view of the 3Rs.
Summary of the Year's Activities
The Foundation's website
Detailed information about all the Foundation's activities can be found on its website at www.forschung3r.ch.
Eleven projects subsidised
A total amount of Fr. 469,640.10 was paid out for 11 ongoing projects during 2016.
Two projects successfully completed
Development of an in-vitro system to grow and investigate vascular endothelial cells under physiological flow (133-12) Prof. Robert Rieben, Department of Clinical Research, University of Berne. Generally research into pathological processes in the cells of the walls of large blood vessels involves the use of laboratory animals, principally because it is not possible to simulate natural perfusion with blood in vitro, since entire blood coagulates on the inner surface (endothelium) of such blood vessels. The aim of this projet was to establish conditions for culturing blood vessel endothelial cells that would allow the main rheological parameters (physiological flow and pressure conditions, shearing strength, etc.) of the blood to be simulated in such a way that the inner surfaces of the blood vessel walls retain their physiological characteristics so that entire blood does not coagulate when coming into contact with them. This research team succeeded in setting up a micro-fluid system that enabled them to achieve their aims. It should be possible for other researchers to adopt this relatively simple concept without any problem.
Validation of a new human in-vitro model of microglia (137-13) Prof. Luis Filgueira, Department of Medicine, University of Fribourg. Many laboratory animals (mainly mice) are used in experiments involving microglia (immune cells between the nerve cells in the brain) for isolating such cells from the brain. A few years ago, the authors of this project demonstrated that it is possible to isolate microglia precursor cells from human blood and to subsequently develop them in vitro into fully functioning, immune-competent microglia cells. The aim of the present project was to validate this method and to publish further results in order to make the process known to a wider field. The researchers succeeded in obtaining convincing proof that such microglia cells obtained from human blood in vitro fulfilled their function as well as microglia cells obtained from mice or from human brain tissue (isolated from dead bodies).
3R-Info-Bulletins
3R-Info bulletins are published on the Foundation's website (www.forschung3r.ch/en/publications/index.html).
Non-invasive electrical monitoring of the population spiking activity in the central nervous system (no. 56, February 2016) Electroencephalographs (EEGs) measure electrical activity on the scalp. New EEG analysis models are being developed to identify the precise topographical location of pathological processes as well as to provide a better understanding of the implications and function of electrical activity in the brain. Experiments to provide high-resolution measurements of electrical activity in the brain are carried out in laboratory animals and involve trans-cutaneous and/or trans-cranial invasion which causes level 3 suffering in such animals. Dr. Gonzales Andino is proposing a new EEG analysis model that would permit such measurements to be made on the scalp. She has succeeded in demonstrating the basic validity of the new EEG model and has published her results.
1. Background of the Foundation
The Foundation is a cooperative institution set up by the Parliamentary Group for Animal Experimentation Questions (public organ), Interpharma (association of pharmaceutical companies that carry out research in Switzerland; www.interpharma.ch/thema/uberinterpharma) and the Animalfree Research Foundation (animal protection). The Foundation was entered in the commercial register on 18 August, 1987.
The funds for subsidising research are provided principally by the Federal Food Safety and Veterinary Office and Interpharma.
2. Purpose of the Foundation
The purpose of the 3R Research Foundation Switzerland is to promote alternative research methods through grants for research projects as well as to implement and promote the 3R principles. The organisation supports first and foremost projects aimed at developing new methods or refining accepted methods (validation) which offer improvements vis-à-vis standard animal experimentation in line with the 3R motto, Replace, Reduce, Refine.
A broad range of projects is funded on the condition that they are likely to replace animal experimentation or to reduce the number of animals used or the stress and/or pain suffered. Accordingly, projects based on the Foundation's three principles and covering any of a broad selection of bio-medical disciplines will be taken into consideration.
It was with regret that the Foundation was obliged to turn down all applications for new projects in 2016 since it will no longer receive funding from the Confederation and Interpharma from 2017 on. The Confederation and Interpharma have adopted a new strategy and in the future will provide financial support for the new 3R Competence Centre to be set up in collaboration with Swiss universities. This means that the 3R Research Foundation will cease to operate once the ongoing projects have been completed.
3. Organisation of the Foundation
The Administrative Board
The Administrative Board of the Foundation is made up of nine members, two representing the Swiss parliament, two representing animal protection, two from Interpharma and two from the Federal Food Safety and Veterinary Office, as well as a representative of other interested circles. Current members are:
Joachim Eder, member of the Council of States, Unterägeri (Chairman)
Dr. Peter Bossard, Horw (Deputy Chairman)
Dr. Philippe Bugnon, Institute of Laboratory Animal Science, University of Zurich
Dr. Isabelle Chevalley, member of the National Council, St. George (as from 26.5.15)
Dr. Kaspar Jörger, Federal Food Safety and Veterinary Office, Berne-Liebefeld
Dr. Ingrid Kohler, Federal Food Safety and Veterinary Office, Berne-Liebefeld
Dr. Birgit Ledermann, Novartis Pharma Ltd, Basle
Claudia Mertens, biologist, Zurich Animal Protection League, Winterthur
Nathalie Stieger, economist, F. Hoffmann-La Roche Ltd., Basle
The Evaluation Committee
Prof. Ernst B. Hunziker, University Hospital, Berne (Chairman)
Prof. Hans Acha-Orbea, Department of Biochemistry, University of Lausanne
Dr. Franziska Boess, F. Hoffmann-La Roche Ltd, Basle
Dr. Urban Deutsch, Theodor-Kocher-Institute, University of Berne
Dr. Robert Friis, University of Berne
Prof. Andrew Hemphill, Institute of Parasitology, University of Berne
Dr. Ingrid Kohler, Federal Food Safety and Veterinary Office, Berne-Liebefeld
Dr. Kurt Lingenhöhl, Novartis Pharma Ltd, Basle
Prof. Matthias Lutolf, Lausanne Federal Institute of Technology
Prof. Thomas Lutz, Institute of Veterinary Physiology, University of Zurich
Prof. Alex Odermatt, Department of Pharmaceutical Sciences, University of Basle
Prof. Tatiana Petrova, University of Lausanne
Prof. Barbara Rothen-Rutishauser, Adolphe Merkle Institute, University of Fribourg
Dr. Stefanie Schindler, Animalfree Research Foundation, Berne
Scientific adviser
Prof. Ernst B. Hunziker, University Hospital, Bern
Administrator
Ernst P. Diener, lawyer, Münsingen
Auditors
DieWirtschaftsprüfer.ch AG, Thun
Supervisory body
Federal Department of Home Affairs
Articles and statutes of the Foundation
Deed of foundation dated 13 February 1987, modified on 28 September 2011
Regulations dated 30 March 2011 1987 (latest update 4 December 2014)
Guidelines for awarding research grants dated 15 May 1987 (latest update 4 December 2014)
4. Personnel
In 2016 there were no changes in the Administrative Board nor the Evaluation Committee.
5. Activities during 2016
In the Foundation's thirtieth year of existence the Administrative Board met twice, namely in April and December, for a half-day meeting. Apart from the statutory business concerning the end of the business year 2015, the Board addressed the following issues.
In April, the Board focused on the financial statements for 2015 and earmarking research funds for ongoing projects. In addition, it took note of the final reports on two completed projects. Since no more projects are to be evaluated, the tasks of the Scientific Advisor have been drastically reduced. A consulting contract with remuneration on an hourly basis was therefore put in place to cover his remaining tasks until all ongoing projects are completed.
At the December meeting, the Administrative Board were given a progress report on the creation of the 3R Competence Centre. Since, in view of its current aims and activities there is no future for the 3R Research Foundation, the Administrative Board decided to dissolve the Foundation once its obligations in relation to research grants have been fulfilled. The existing funds will suffice to meet all current obligations. The meeting finished with a review of activities during 2016 and those planned for 2017, which was followed by way of a thank-you for the work carried out in 2016 by a dinner for the whole Board.
In view of the decision not to call for any further applications, the Evaluation Committee did not meet during 2016. The Scientific Advisor organised the review of the annual reports and final reports by mail. We should like to take this opportunity to thank the members of the Evaluation Committee for their voluntary work in this connection.
6. Overview of the number of applications and approvals
During 2016 two projects were completed (133-12, 137-13). Together with those projects completed earlier, this brings the total of finished projects to 134 out of 146.
7. Financial business
Research funding for the 11 ongoing projects amounted to Fr. 469,640.10 in 2016. The sum of Fr. 2,532.80 was used for participation in meetings where projects funded by the 3R Foundation were presented. Together with expenditure on project supervision (Fr. 77,758.60) and the balance of provisions for project funding (-Fr. 205,481.45), made up of Fr. 381,841.35 for provisions for 2017 minus Fr. 587,322.80 for provisions for 2016), total expenditure for research projects amounted to Fr. 344,450.05. Administrative costs totalled Fr. 59,637.20. Total expenditure therefore amounted to Fr. 404,087.25.
On the income side, the equal financial commitment of the Confederation and Interpharma has thus far constituted the basis for the Foundation's activities. In 2016 the Federal Food Safety and Veterinary Office provided the Foundation with Fr. 365,000 while Interpharma transferred the sum of Fr. 250,000. Together with other income (Fr. 61.60), total income for 2016 amounted to Fr. 615,061.60.
The balance therefore shows an excess of income over expenditure of Fr. 210,974.35. On the balance sheet this amount has been shown as an addition to capital funds. Consequently, capital funds or unused research funding rose from Fr. 25,261.17 at the end of 2015 to Fr. 236,235.52 at the end of 2016.
At the end of the year under review the sum earmarked by the Administrative Board in principle on the basis of project approvals but as yet not paid out amounted to Fr. 381,841.35. This amount is fully covered by provisions. Consequently, as at 31.12.2016, there remained no contingency commitments that are not shown in the financial statements.
The budget for 2017 includes Fr. 381,841.35 for ongoing projects.
8. Overview of grants awarded between 1987 and 2016
Together the federal authorities and Interpharma have contributed Fr. 23,826,000.00 to the Foundation since 1987. At the end of 2016 a total of Fr. 19,628,418.65 had been granted for projects and other subsidies, of which Fr. 19,249,110.10 had been paid out so far. Expenditure for project evaluation and supervision amounted to Fr. 2,329,800.08 and the accumulated administrative costs totalled Fr. 2,018,566.37 (8.5% of total expenditure or 10.4% of grants paid).
10-year overview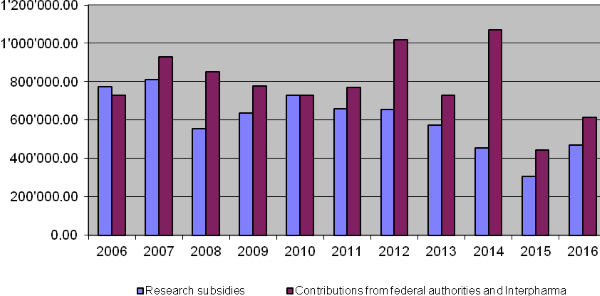 9. Annual financial statements
Profit and loss account
2016
2015
Federal contribution
365 000.00
365 000.00
Interpharma contribution
250 000.00
80 000.00
Contributions to the Foundation
615 000.00
445 000.00
Research grants
-472 172.90
-329 507.25
Reimboursement of research grants
0.00
24 782.75
Adjustment reserves for research grants
205 481.45
-187 538.90
Project supervision and information
-77 758.60
-93 134.47
Balance for current projects
270 549.95
-140 397.87
Administrative costs
-59 637.20
-92 992.35
Intermediate balance
210 912.75
-233 390.22
Financial income
61.60
46.50
Financial result
61.60
46.50
Allocation to capital funds
-210 974.35
Withdrawal from capital funds
233 343.72
Balance
0.00
0.00
Balance as per 31st December
2016
2015
Assets
Liquid Assets
620 632.57
616 992.37
Accounts payable
Accounting apportionment assets
1 778.80
2 367.60
Current assets
622 411.37
619 359.97

Liabilities
Accounting apportionment liabilities
3 334.50
5 776.00
Reserves for research grants
381 841.35
587 322.80
Borrowed capital
385 175.85
593 098.80
Capital
– Carried forward 1 January
25 261.17
258 604.89
– Change in capital
210 974.35
-233 343.72
Balance as at 31 December
236 235.52
25 261.17
Foundation's capital
1 000.00
1 000.00
Organisational capital
237 235.52
26 261.17
622 411.37
619 359.97
Contingent liabilities
Keine
Münsingen, 23 March 2017
3R RESEARCH FOUNDATION
The Chairman: signed Joachim Eder
The Administrator: signed Ernst P. Diener
10. Auditors' report to the Administrative Board
DieWirtschaftsprüfer.ch AG in Thun audited the financial statements for the year according to standards of limited auditing and did not find any indication that the accounts and statements do not correspond to current legislation or the principles and regulations of the Foundation.

---